Cal Poly Students Celebrate Child Health Day by Moving for Kids Who Can't
by Peyton Lynch, CPDM PR
On October 5, Cal Poly San Luis Obispo students kicked off a virtual week-long celebration of Child Health Day. Cal Poly Dance Marathon (CPDM) prides itself on running a fun-filled and action-packed week to raise awareness for kids experiencing pediatric illness.
What the Event Looked Like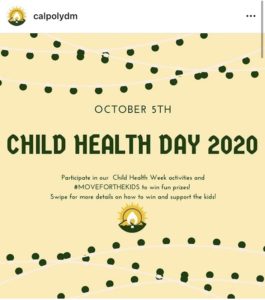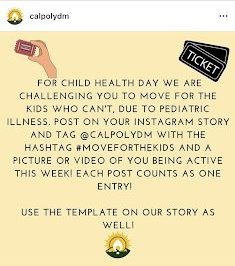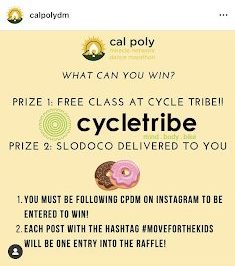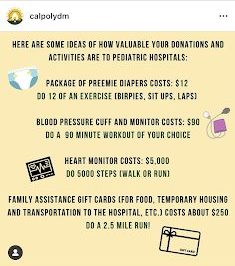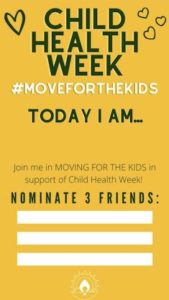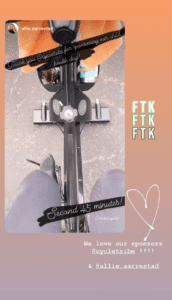 To celebrate Child Health Day and to help fundraise for Cottage Children's Medical Center (CCMC), our local Children's Miracle Network (CMN) hospital for San Luis Obispo county, CPDM hosted a week-long virtual Instagram event in place of an in-person one because of COVID-19 restrictions. This year, we challenged everyone to get up, get active, and move for the kids who can't due to pediatric illness.
We began the morning of October 5 with a Child Health Day Challenge template post on Instagram explaining the purpose of our event, how to enter, the AWESOME prizes participants could win (thank you SLODOCO and Cycletribe!!), and the activities students could do to get active.
In order to create a cause-connection to CMN, the specific amount of a certain exercise was correlated to the price of items at the hospital. Our goal was to raise awareness of some of the expenses families may have to pay for when staying at the hospital, in order to demonstrate how valuable everyone's donations are.
Students then participated in the activity of their liking. In order to become eligible for prizes, students had to first post our designated template (pictured) on their Instagram story with a description of the activity they were doing and had to nominate three people by tagging them on the post. Second, the students posted picture or video proof of them being active, tagged our instagram (@calpolydm) and used our hashtag #moveforthekids.
Students not only had the opportunity to get out and get active this week in honor of Child Health Day, but they also were able to learn all about how impactful their CMN donations are, as well as how to stand up for pediatric illness.
As an organization, CPDM is extremely grateful for everyone's participation in celebrating Child Health Day. We are so glad we were able to spread awareness of Children's Miracle Network Hospitals' incredible work and give our Cal Poly San Luis Obispo student body the opportunity to make a difference for sick and injured kids.
Cal Poly Dance Marathon is excited to host future events and for our big event coming up in April 2021!
For more information on how to get involved, check out the links below!